As we're coming to the close of week 10 of the NBA season, there's a lot to look forward to this weekend. For this edition of League Pass Weekend, I'm going with a team that's currently a game behind Denver for 1st in the West, the Oklahoma City Thunder.
Oklahoma City Thunder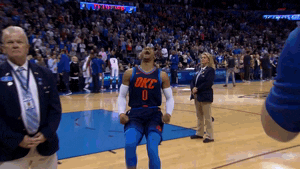 OKC has had a very strong start to the season at 20-10 (14-6 over their last 20).  With that said, because of how tight the West is they're only 4.5 games ahead of 10th place, so they really can't afford a poor stretch. Their two matchups this weekend come against teams that are currently on the outside of the playoff picture, but both had high hopes coming into the season, and while they've had disappointing starts, they're both within 2 games of a playoff spot.
Led by Mr. Triple Double, Russell Westbrook, and very strong campaigns from Paul George (25.5 points, 8 rebounds, 4.5 assists, 2 steals) and Steven Adams (16 points, 10 rebounds, 1.5 assists, 1.5 steals, 1 block) OKC has shown they can be a force in the Western Conference.  They've also gotten great bench contributions from Schroder and Jeremy Grant, and if Roberson can get healthy (being reevaluated in three weeks) he'll provide a huge lift to an already great defensive team.
Utah is currently 15-17 and most would say they've taken a step back this year. In their last matchup on Dec. 10th, the Thunder won in Oklahoma City 122-113, so expect the Jazz to be looking for payback on their home court. If OKC wants to be in the conversation for best in the West, these are games they need to win.
Prediction: Oklahoma City wins: 118 to 112
These two teams matchup for the first time this season on Sunday, and for OKC, it'll be the 2nd half of a back-to-back.  Minnesota is another team that's had a tumultuous start to the season much like Utah, but they also find themselves just a few games out of the playoff picture. They'll be looking to take advantage of a tired Thunder team who could be in a battle the night before at Utah, so it'll be very important for OKC to start the game off with a lot of energy (one of Westbrook's specialties).
Prediction: Oklahoma City wins 125 to 119
**Keep an eye out for a bonus Christmas Day rundown that we'll release this Sunday**