With 5 weeks of the NBA regular season in the books, it's time for The 76th Sense team to make our 2nd updates on All-Star predictions. I'd like to welcome Marcus to the party as he made his first updates this time around (partially because he had Jimmy Butler as a Western Conference All-Star so he had to move him).
The past two weeks have given NBA fans a ton of action and high scoring. We saw LeBron put up 51 points, becoming only the 2nd player in history to score 50+ in a game this late in his career (the other was Kobe in his last game and he took 50 shots to do it). Kemba dropped an NBA season high 60 points in an OT loss to the Sixers and followed that performance up by scoring 43 two nights later.
Through 5 weeks, our 50+ point game total is now up to six and our 40+ is up to sixteen (10 games over 40 points in the past two weeks). Lillard and Kemba have done it three times each and LeBron, Anthony Davis, and Embiid have each done it twice, so if the NBA wanted more scoring, they got it.
So let's get to the updates:
Hurrikahane:
Team Embiid:
Starter 1: Joel Embiid

Starter 2: Kevin Durant

Starter 3: Steph Curry

Starter 4: Kawhi Leonard

Starter 5: Kemba Walker

Bench 1: Ben Simmons

Bench 2: Damian Lillard

Bench 3: Jrue Holiday (2nd update) Nikola Jokic

Bench 4: Karl-Anthony Towns

Bench 5: DeMar Derozan

Bench 6: Jimmy Butler (2nd update) Jayson Tatum

Bench 7: Kyle Lowry (1st update) Al Horford
Team Lebron:
Starter 1: LeBron James

Starter 2: Anthony Davis

Starter 3: Giannis Antetokounmpo

Starter 4: James Harden

Starter 5: Victor Oladipo

Bench 1: Russell Westbrook

Bench 2: Rudy Gobert

Bench 3: Andre Drummond

Bench 4: Blake Griffin (1st update) Kevin Love

Bench 5: Paul George

Bench 6: John Wall

Bench 7: Zach LaVine
Pup:
Team Giannis: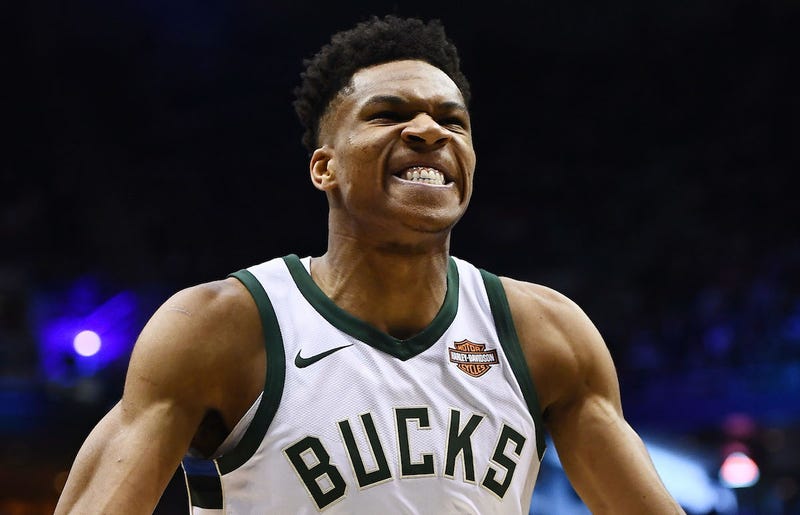 Starter 1: Giannis Antetokounmpo

Starter 2: Anthony Davis

Starter 3: Joel Embiid

Starter 4: James Harden

Starter 5: Victor Oladipo

Bench 1: Stephen Curry

Bench 2: Kemba Walker

Bench 3: Paul George

Bench 4: Andre Drummond

Bench 5: Khris Middleton (2nd update) Jayson Tatum

Bench 6: DeMar DeRozan

Bench 7: Jimmy Butler (2nd update) John Wall
Team LeBron:
Starter 1: LeBron James

Starter 2: Kevin Durant

Starter 3: Ben Simmons

Starter 4: Kawhi Leonard

Starter 5: Russell Westbrook

Bench 1: Damian Lillard

Bench 2: Nikola Jokic

Bench 3: Chris Paul

Bench 4: Blake Griffin (1st update) Kevin Love

Bench 5: Draymond Green

Bench 6: Zach LaVine (1st update) Kyrie Irving

Bench 7: Bradley Beal
Marcus:
Team Giannis:
Starter 1: Giannis Antetokounmpo
Starter 2: LeBron James
Starter 3: Anthony Davis
Starter 4: Kyrie Irving
Starter 5: James Harden
Bench 1: Klay Thompson (2nd update) Jimmy Butler
Bench 2: Nikola Jokic
Bench 3: Russell Westbrook
Bench 4: Andre Drummond
Bench 5: Ben Simmons
Bench 6: LaMarcus Aldridge
Bench 7: Gordon Hayward
Team Curry:
Starter 1: Steph Curry
Starter 2: Kevin Durant
Starter 3: Joel Embiid
Starter 4: Kawhi Leonard
Starter 5: Blake Griffin
Bench 1: Jayson Tatum
Bench 2: Kemba Walker
Bench 3: Rudy Gobert
Bench 4: Damian Lillard
Bench 5: Ben Simmons
Bench 6: DeMar DeRozan
Bench 7: Nikola Vucevic (2nd update) Kevin Love
Takeaways:
Jimmy Butler saw the most movement this week

Both myself and Pup added him to the All-Star predictions as an Eastern Conference player and Marcus removed him from his Western Conference list

Jrue Holiday (Hurrikahane), Khris Middleton (Pup), Nikola Vucevic (Marcus), and Klay Thompson (Pup) all got their 1st All-Star picks this week
Notable Snubs:
Hassan Whiteside

Whiteside was on my snub list two weeks ago and all he's done since then was increase his scoring by 1.5 points, rebounds by .5 and is now averaging over 3 blocks a game. Unfortunately, the Heat stink so he's not getting much recognition

Nikola Mirotic

Another one of my snubs from two weeks ago, Mirotic has slowed down just slightly, but is still averaging 19 points and 11 rebounds per game

Devin Booker

Booker continues to find himself on the snub list.  Not only is he averaging 24 points per game, but he continues to increase his assist total, now up to 7.5 assists per game from 6 two weeks ago.  As long as he's in the West and the Suns continue to struggle, I think he'll be a mainstay on this list

CJ McCollumn

CJ is having another strong year and Portland is sitting at 12-5 and 1st place in their Division.  The guard pool in the West is crazy deep, but if CJ keeps playing like this and Portland keeps winning, you'd have to think someone is going to give him some credit.

Marc Gasol

Gasol is a bad dude.  He's turning 34 in January and just keeps doing his thing.  He's currently averaging 17 points, 9.5 rebounds, and 4 assists and has the Grizzlies at 11-5 and 1st place in their Division