As we enter the new NBA season, it is time to look ahead. Here are my hopes for seven key Sixers for this season.
Markelle Fultz
Collectively, as a fan base, we all want to see Fultz play like the first overall pick. We want to see the flashes of brilliant basketball Fultz displayed at Washington. We want to see threes fall at that 40% clip and we want to see that the summer of endless workouts with Drew Hanlen has paid off.
Will we see those things is at the top of every true Sixers fans' mind, but I am focused on something else. I am waiting to see how Fultz reacts to the ups and downs of a long NBA season. After the shooting woes Markelle endured last year, confidence is key. How he reacts will be very telling to type of year we can expect from Fultz.
JJ Redick
JJ is a savvy vet, we know what we are going to get out of him…3s 3s and more 3s. Redick provides veteran leadership as well as shooting confidence for this young team, and I know that will continue. For JJ, I hope to see a career high three point percentage. The team is set up for JJ to thrive this year from deep. Joel will be more dominant than ever and the inside out offense they could run with those two could be deadly. Playing alongside Simmons, who has had another year to become more dangerous, can only open things up more for JJ. So like I said I'm hoping for a career high three point percentage.
Robert Covington
Watching RoCo play over the past few years has been a roller coaster ride. Covington is like the friend that we all have, he is great to be around but always manages to say one or two things that are too awkward to overlook, but he's your friend so you always back him up. RoCo's shot selections are his words. What felt like nearly every game last year, Covington would chuck up a three that just made you scratch your head. Every time that shot went up I had the same reaction…hands to head, look down, shake head back and forth, and say, "What are you thinking?!?!".  At times that reaction came on made shots, I don't discriminate. A bad shot is a bad shot is a bad shot, regardless of the outcome. Some of the leeway Covington receives comes from what he brings on the defensive end. Taking the good with the bad is a delicate balance, so this year I am hoping to see RoCo stick to being a 3 and D player while consistently taking better quality higher percentage shots.
Wilson Chandler
When I first heard we signed Wilson Chandler I can't say I was thrilled. I was hoping we would win the LeBron sweepstakes so Chandler was quite the drop off. Though as the summer progressed and I had more time to process this addition, my feelings changed. I think Wilson will be a valuable add to this team. Any and all veteran leadership we can muster can only help coming down the stretch. With that said, there is a specific role I hope to see Wilson Chandler fill and it directly correlates to the player I just wrote about, Robert Covington. My hope for Chandler is he a solid enough defender that Brett Brown can use him to keep RoCo in check when he starts firing threes like Jackie Moon in Semi Pro.
Ben Simmons
Ben is such a solid basketball player that trying to pick something out feels like a disservice to him and his game. My nitpicking hope for this year is a focus on scoring. For Simmons to be the once in a generation player we all know he can be, a scoring mindset is needed. Not a Mamba mentality towards scoring, more of a if-your-gonna-give-me-all-this-space-I'm-gonna-make-you-pay-for-it type of way. I hope to see him look to get buckets from the 15 feet when they are playing 2 feet off him. I hope to see a few threes put up, hopefully with a couple makes. Ben doesn't need the jump shot to be great but with it he could be legendary.
Dario Saric
I love everything about Dario. The mustache, the accent, the mannerisms, all of it. Most of all, I love Dario's game. He is gritty, he shoots, he boards, he backs up his teammates, he is everything you want from a modern-day 4.  I would have been terribly sad to see him go over the summer, even if it was for a proven All-Star. Dario is what the city of Philadelphia needs in a basketball player and I'm thrilled to have him back. Now that I got that off my chest, I will move onto my hopes for him. I do not think it is a stretch to think that Dario could be an All-Star this year, but he will need the numbers. My hope for Dario is he starts out strong and averages a double-double for the year.
Joel Embiid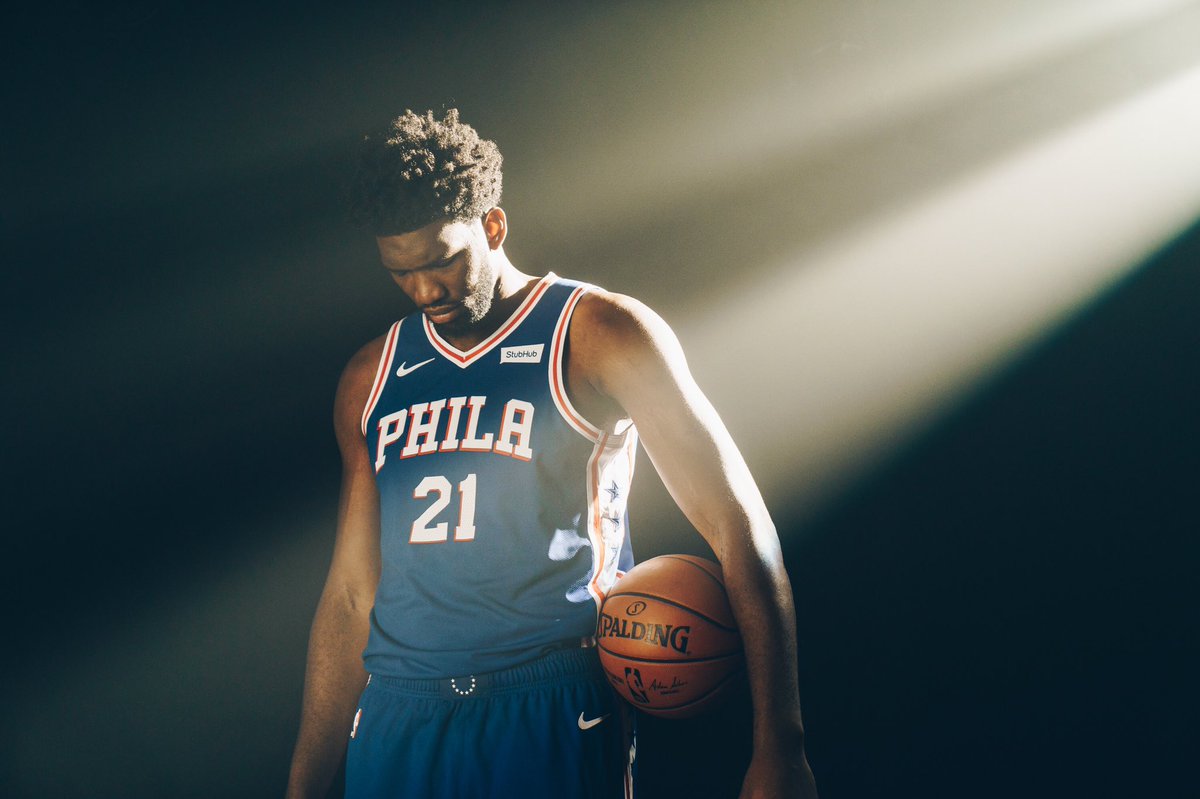 I don't know if it is just me but it feels like Joel can do it all. I am serious. If you asked him to learn to do a back flip, I would bet he comes back in a week able to do three different kinds. The dude is a savage. It does not matter if he is playing soccer in Africa, tweeting Andre Drummond, or in a pick up game in France he just dominates all day everyday. His game is complete so I have one hope for this year…MVP.